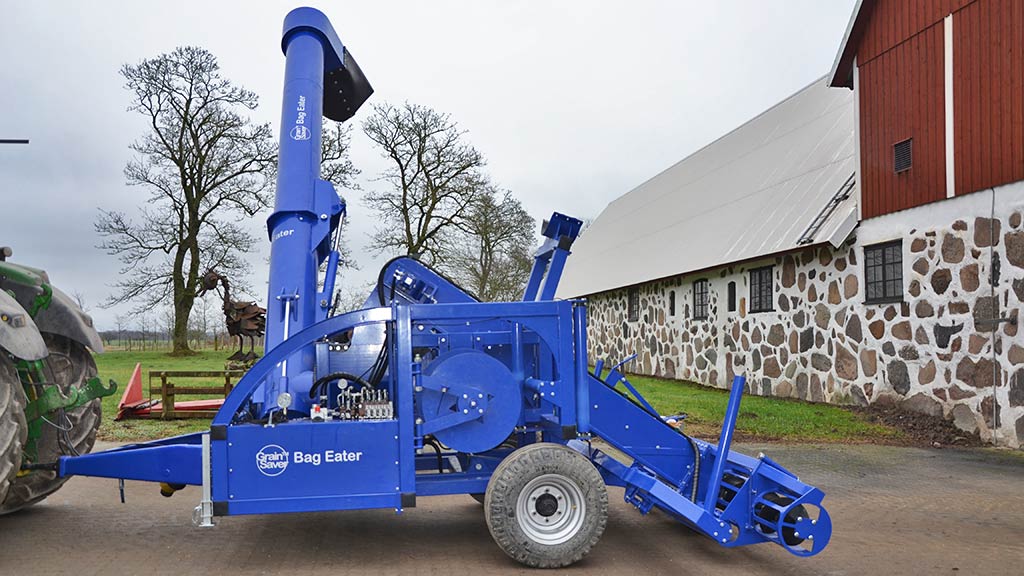 GS Bag Eater is a grain extractor with one of the highest extraction capacity on the market. A professional model for large-scale activities with an extraction capacity of up to 200 tons per hour. The machine is equipped with a reversible loading auger and automatic reeling of the silo bag.
GS Bag Eater is a high performance grain extractor that provides unprecedented opportunities to handle large volumes of grain in a short period of time. It works with a combination of augers and a chain elevator and have the large capacity for dry grain.
The machine is equipped with dual blades that enables an even and fine cut of the silo bag. Grain is extracted, out of the silo bag, by a chain elevator and through the unloading auger. Because the auger is reversible, the load can take place on both to the right and to the left which allows much denser layer of grain bags than previously possible with other machines. Because the silo bag is raised during the process, it leaves no grain left in the silo bag. After finishing, the silo bag is readily packed in a roll, ready for smooth recycling. Only one person is needed for the work.
The Bag Eater requests a mid-size tractor of minimum 120 hp to do a good job, is run on 540 rpm. LS outtake is standard but the machine can be adopted to tractors without LS. New model was introduced in 2020.