Grain carts developed by farmers and thoroughly tested by farmers
Coincidence has got nothing to do with the Grain Saver trailers. We simply decided to build the best grain cart around. To manufacture a versatile grain carts that are manufactured not only for the large fields in the world, but for farmers around the word solving the missing link between harvesters and storage. But also for distribution of seeds and fertilizers for combi-seeding, for feed-stuff, for fast unlading in the bottom to grain pits etc. The GS is more than a grain cart, it is a machine that can be used for many months a year on standard farms.
By bringing the core competence together of the team – from farmers to designers and producers – a new generation of grain carts was brought forward in 2014. Since then, we have moved up to an annual production of around 30 units and the GS family now consist of the GS12, GS16,5, GS24,5 and the GS38. A choice and pick for every farm and operation!
Technical features:
Foldable auger
Discharge from 2,6 to 4,7 meters making it easy to access fertiliser spreaders, seeding machinery, trucks,
Heavy duty
Designed with bolts and nuts instead of welded for longevity performance. A more expensive solution to build but something you'll thank us after 30 years of heavy operations compared to competitors cheaper solutions with welded construction.
Perfect stability
Suspended drawbar, shock-absorbing rubbers from the mining industry and precise, robust design of axles
Split compartment
Transport fertilizers and seeds in the same machine! And no mixing of the two.
Complete flexibility on outloading
Unloading auger, half unloading with only underpipe and bottom hatch for unloading over dumpit created unique opportunities in combing the grain cart as an overloading machine away from the farm and to service intake hoppers on the farm by fast bottom unloading of the cart
Only the best
High quality components from top global suppliers
Stay dry
Heavy duty roll-top
Easy access
Large platform with ladders inside & outside
Great overview
The biggest view-window commercially available
Airbrakes or hydraulics
Your choice
Scale
Optional weighing computer
Hitch system
Choice of several systems available on the market
Mudguards & lights
Best on market with automatic light shut-off on auger, reliable LED-lights
Hydraulic functions
Four double acting hoses, separately adjustable tunnel hatches – front and back – switched by a 12 Volt switch
Prior to launching, the machines have been run close to a normal life span of a standard grain cart. By running so much grain through the machines we are able to warrant many more years of hard work at your operation. We promise that we will continue operating these machines heavily in the future, year in and year out and bringing you state-of-the art to continue giving improvement to your farm/contracting operation. We listen to your needs and integrate that into the product development. To be a small company we can do improvements very fast.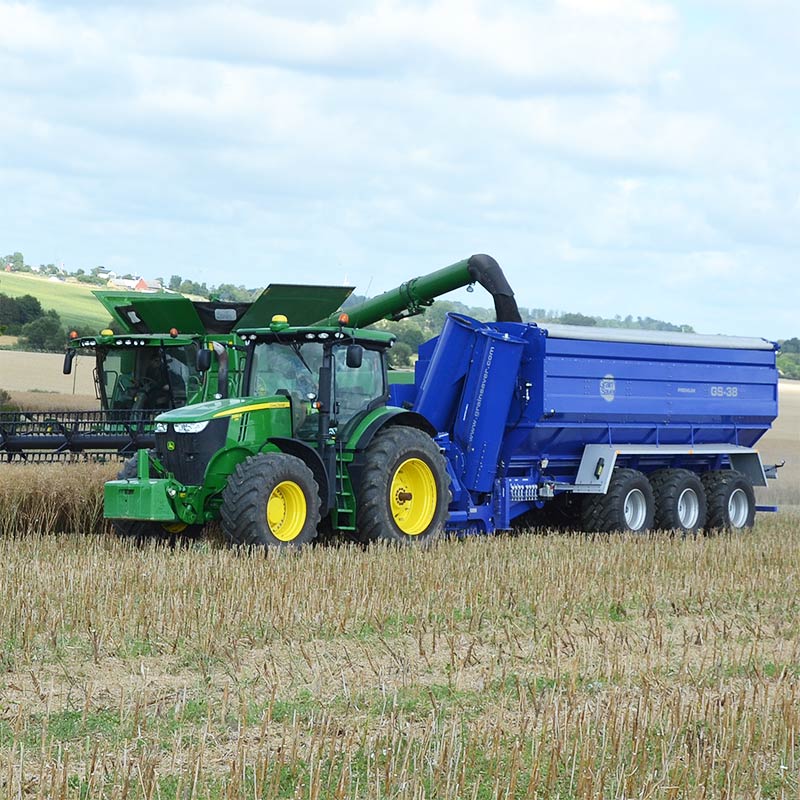 Grain Cart GS – 38
GS 38 is a new powerful grain cart. The wagon is equipped with a triple axle with hydraulic suspension.
Loading capacity 38 m3
Triple axle with hydraulic suspension.
Tyres standard 710/55R26,5
Forced steering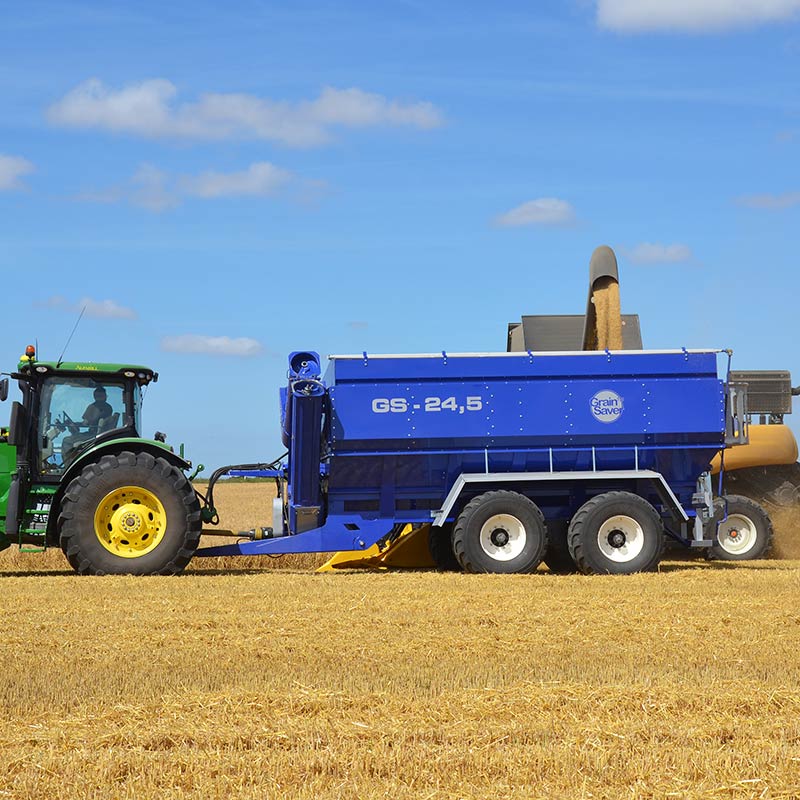 Grain Cart GS – 24,5
GS 24,5 is a powerful grain cart, adapted to serve two large combines in operation.
It is easy to drive and thanks to its design it has a large surface area relative to volume. The wagon is equipped with a steerable BPW tandem axle. Unloading time is approx. 3 minutes. It requires a 200-250 hp tractor for smooth operations.
Grain Cart GS – 16,5
GS 16.5 is a grain cart adapted to serve one large combine or two mid-size combines in operation.
It is compact and fitted with a standard BPW axle. Because it is built on the same standard components as its larger brother – the GS 24.5 – unloading time is approx. 2-3 minutes. It requires a 150 hp tractor for smooth operations.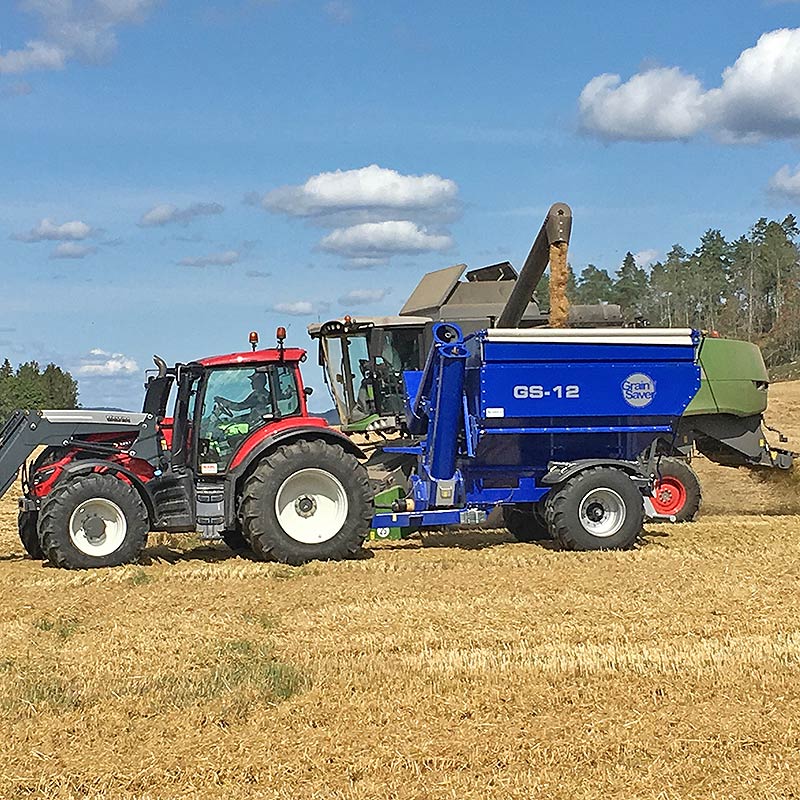 Grain Cart GS – 12
GS 12 is an efficient overloading grain cart in a compact format.
A sturdy overloading wagon designed with many years of experience from the larger Grain Saver trailers. Perfect for alpine areas, Nordic areas and smaller operations where efficiency and technical solutions is in focus. Serves easily a large combiner. An 80 hp or larger tractor would be needed.
---
What Clients Say
We run farming on 1 000 ha on several locations in our area.
The Grain Saver 24,5 with extensions give us all the benefit to keep the combine and trailers running. It is a high quality machine and we're content.

Alexander Håkansson, farmer southern Sweden
Best grain cart

Harvest here in Ireland is wet and after checking around for the best grain cart we could find, we chose a Grain Saver 24,5. It has all the versatility one demands of a modern grain cart, built for European conditions.

Pierce Cousins, Cousins Agri & Plant LTD, Ireland