GS-24,5 is a powerful grain cart, adapted to serve one to two medium/large combines in operation. It is easy to drive and operate.
Grain cart GS-24,5 works well with a tractor at approximately 200-250 hp. With such a tractor, slopes and gradients will not set down the driving speed, making it smooth for the grain cart to operate and readily deliver the grain from the fields to the unloading place efficiently. However, in flat fields a 150-175 hp tractor is sufficient. The discharge time is approx. 3 – 4 minutes depending on grain and moisture content.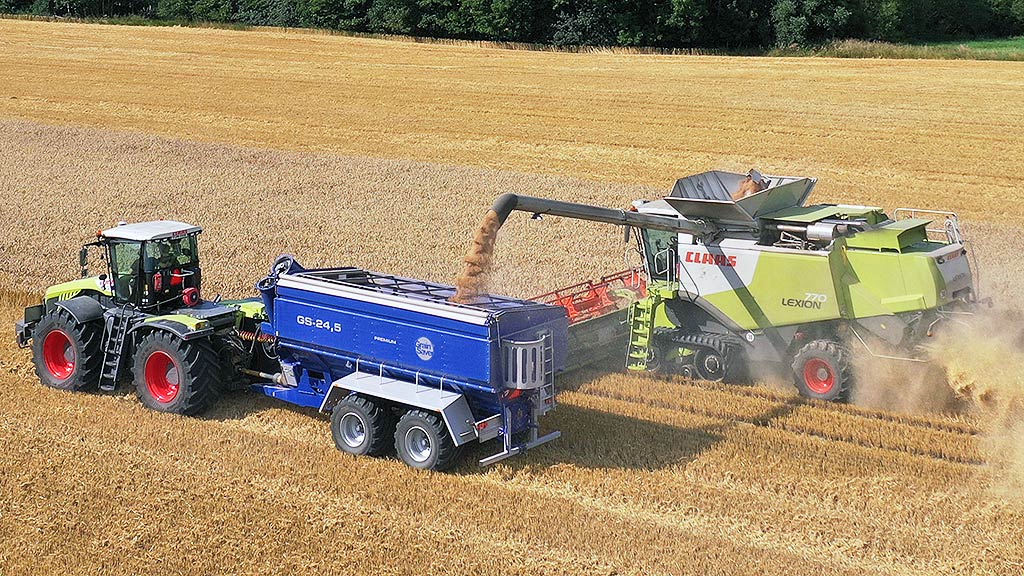 The grain cart is constructed with a horizontal and vertical auger, reducing problems of unloading even in wet conditions. As a standard, it is delivered with a suspended drawbar and an up and down moving discharge pipe (unloading down to 2.26 m and up to 4,5 meter loading height) which can operate seed and fertilizers to most of the fertilizer spreaders and many of the seeders found on the market. Furthermore, it can be equipped with an indicator for the opening and closing of the tailgate, hydraulically opened bottom hatches and tip the fully load in about 40 second. The GS 24,5 is equipped as standard with roll-top, rear platform, ladders inside and outside, mudguards and hydraulic legs. The machine is also fitted as standard with good lights on the auger.
The machine is delivered with BPW steerable tandem axle (choice of hydraulic or air brakes) and standard tyres 710/50R26,5
| | |
| --- | --- |
| Capacity - min. | 24,5 m3 |
| Capacity – max. (w. extension 30 cm) | 28,5 m3 |
| Gross weight | 24 ton |
| Axle type | BPW sterable tandem (22 ton) |
| Brake system | Hydraulic/air brakes |
| Standard wheels | 710/55R26,5 |
| Option tires | 710/55R30,5 |
| Hp requested | 180-250 * |
| Foldable front auger | ● |
| Unloading height - min.@meter | 2,24 m |
| Unloading height - max. | 4,66 m |
| Auger diameter - horizontal | 330 mm |
| Auger diameter - vertical | 420 mm |
| Discharge time (auger) | 3 -4 min** |
| Discharge time (bottom hatches) | 40 sec** |
| Transmission | mechanical |
| Hydraulic bottom hatch opening - full | ● |
| Split compartment (fertilizers/seeds - separate discharge) | ● |
| Hydraulic support leg | ● |
| Suspended drawbar | ● |
| Roll-top suitable for transport | ● |
| Plattform rear | ● |
| Ladder inside and out | ● |
| Digital weighting system | ○ |
| Mudguards | ● |
| Bottom hatch indicator | ● |
| Large front window | ● |
| Rear drawbar | ● |
| Worklight w. switch | ● |
| Choice of color | ○ |
| Length overall | 9.000 mm |
| Total width without tires | 2.250 mm |
| Total width incl tires | 2.930 mm |
| Total height - standard | 3.800 mm*** |
| - with extensions | 3.900 mm |
| Empty weight | 7.430 kg |
● Standard ○ Option
* Depending on field slope and moisture level in field
** For standard grain (15-18% moisture)
*** The highest point of the auger can be lowered for about 100 mm